The ever-increasing amount of on-board software-based technology found in modern vehicles has introduced plenty of new opportunities for monetization in the cabin, including selling monthly subscriptions for features such as infotainment, phone connectivity, heated seats, ADAS functions and semi-autonomous driving.
Discussions around subscription services was sparked recently by the revelation that BMW was, in certain markets, offering the use of heated seats for an $18-per-month charge. Responses to this story were overwhelmingly negative, with scores of commenters criticizing the German automaker for what was seen as a greed-driven move to monetize a function that most felt should be included in the vehicle purchase price.
BMW's seating subscriptions are probably just the tip of a contentious iceberg which, over time, will see OEMs gradually push at the boundaries of what customers are willing to pay for, while building as many novel revenue streams into their vehicles as possible. This is a dangerous strategy, however, because the strength of consumer backlash against such services risks causing companies long-term reputational damage if they are seen to be 'greedy'. Consumers have never been more interconnected, with many seeking out independent reviews of products before taking the plunge, and word will travel quickly if buyers feel 'ripped off' by on-board subscription services.
Already, we are seeing multiple socio-economic factors emerge that may dampen demand for such services. For one, consumers may be approaching a point of 'subscription service fatigue' with many music, movies, TV and gaming services already based around subscription models, meaning few will have an appetite to add even more ongoing monthly costs. Additionally, many countries are experiencing cost-of-living crises which are putting pressure on consumer spending, and this is likely to be compounded by economic recessions around the world.
What the surveys say
On-board subscription services are relatively new so we only have a fairly limited understanding of consumer attitudes towards such features. In early 2022, Cox Automotive carried out a survey of 217 people who intended to buy a new car within two years to ascertain how willing they would be to unlock on-board features via a monthly subscription. A resounding 75% of respondents said they had no interest in any kind of on-board subscription services.
To gain a greater understanding of consumer attitudes, this writer conducted an informal poll via Twitter to get a sense of the appetite for subscription-based service, and roughly how much potential buyers might be willing to spend. The sample group was self-selecting and drawn from groups of respondents that might not reflect the average consumer, but the results still show a general distaste for subscription services.
Of 383 respondents to the poll, 89.3% said they were not willing to spend anything on monthly subscriptions. Of the remaining 10.7% that said they would be willing to pay a monthly fee to unlock certain on-board features, the majority (7.6%) said they could stomach payments of up to £15 ($18) per month, roughly in line with well-known subscription services such as Spotify and Netflix. Of the remaining respondents, 1.3% said they would spend up to £50 ($61) and 1.8% would be willing to spend above that figure.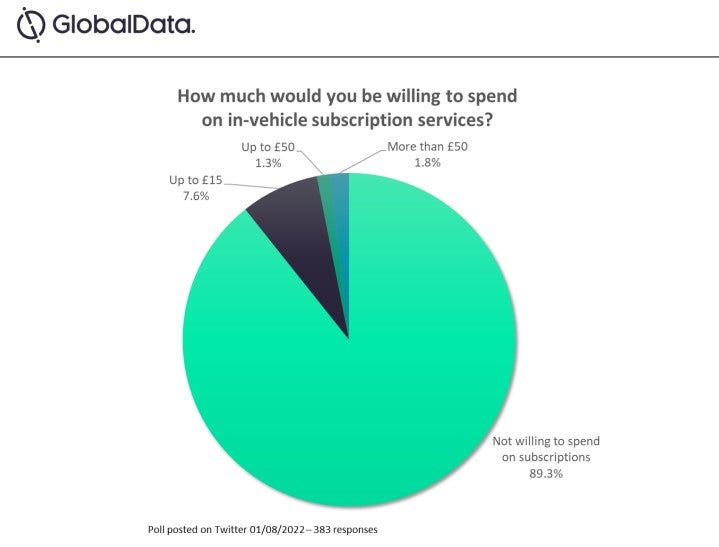 Several respondents highlighted the difference between subscribing to data-based products that require ongoing updates and development to remain useful, such as semi-autonomous driving or mapping services; and an OEM blocking access to a permanent physical component of the vehicle, such as heated seats, for no reason other than monetization – with the latter being much less palatable. Other comments, however, simply branded these new services as "cynical" and expressed concern over being "held to ransom" by their vehicles.
It would be unwise for auto players to ignore consumer attitudes towards subscription services. While modern vehicles are now loaded with software-based services, consumers are unlikely to consider their vehicles on the same level they do their smartphone or movie and TV subscriptions. Owners have come to expect that, once purchased, they own their vehicle and the hardware it contains and many will balk at features already installed in the cabin being locked behind a paywall.
Despite the general dislike seen for subscription services, there appears to be more openness for services that require ongoing development and updates to remain useful, such as semi-autonomous driving features, which can be seen to get better over time. There may also be potential avenues to run a mixed sales model where consumers have a choice between a reduced purchase price with the option to add subscriptions, or purchasing the vehicle and features outright.
This article was first published on GlobalData's dedicated research platform, the Automotive Intelligence Center