The Indian market accelerated further in June, as the selling rate reached 4.89 million units/year, the second highest rate on record, and up 4% from a strong May.
Total Light Vehicle (LV) wholesales in June were at 379k units, down by 1% from the previous month but up 2% year-on-year (YoY). Sales were boosted by robust demand for new models and improvement in semiconductors supplies.
Passenger Vehicle (PV) sales slipped by 1% month-on-month (MoM) to 322k units (+3% YoY), while the sales of Light Commercial Vehicles (LCVs) with GVW up to 6T inched up by 1% over the May tally to 57k units (+1% YoY).
In June, retail sales of PVs and LCVs were at 337k units, versus 340k units in the month before, according to the Federation of Automobile Dealers Associations (FADA).
"The PV segment navigated through a mixed landscape characterized by variable demand, dynamic product portfolios and oscillating market sentiments," said FADA President Manish Raj Singhania.
Meanwhile, the average PV inventory rose for the fifth straight month, climbing to 45-49 days at the end of June, from 40-45 days in May and 39-41 days in April, according to FADA.
Thanks to the increased supply of semiconductors, production and sales accelerated strongly in H1 2023. The selling rate averaged 4.55 million units/year, compared to last year's total LV sales of 4.39 million units (an all-time high).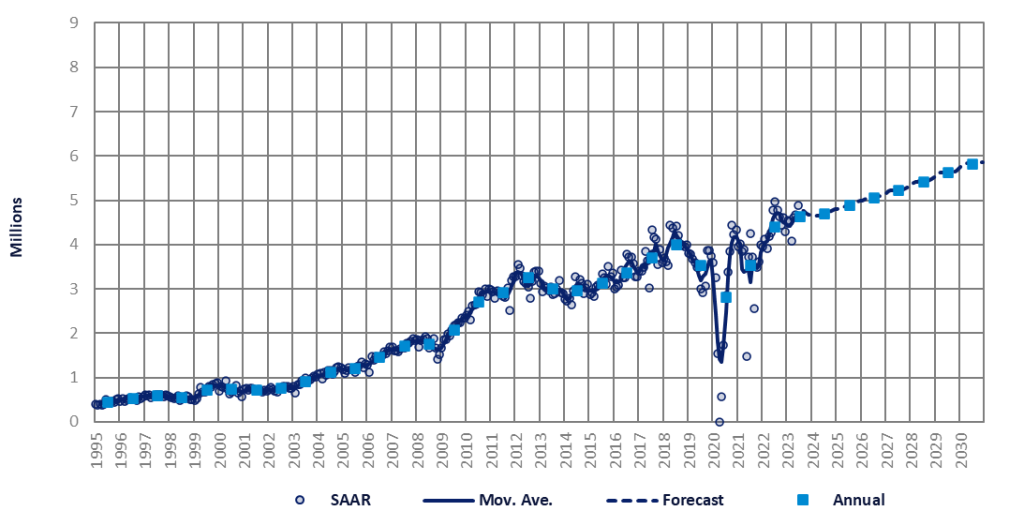 LV wholesales in the first six months of the year increased by 8% YoY to 2.31 million units. This total was divided between 1.96 million PVs (+10% YoY) and 350k LCVs (zero growth).
It is reported that an estimated number of backlogged orders still total 750k units, most of them with Maruti Suzuki (390,000 units and 50% of them SUVs), Mahindra & Mahindra (292,000 units at the beginning of June), and Toyota (over 100,000 units). That means that even after the catch-up in production, the backlogged orders are not decreasing – as OEMs are receiving fresh orders, as they struggle to meet pending orders.
There is, however, a mismatch between supply and demand. There are large stocks of older models (mostly Cars) that do not require as many chips, which are now offered with discounts and incentives. But there is a supply shortage of the newer SUVs, which have long waiting periods and mostly account for the backlogged orders.
There are also reports that the cancellation rates are rising. Due to long delivery periods, some buyers had made multiple bookings across brands, and once one of their orders is delivered, they are cancelling other orders.
We remain cautiously optimistic about the sales outlook. While inflation has subsided, vehicle prices and financing rates remain high. The lingering chip shortage is another concern. Severe weather, such as unusually high temperatures, drought and floods, could impact the economy, especially rural incomes and demand.
Since June sales were stronger than expected while the improved supply situation and new model launches will likely keep sales buoyant, we made minor upward adjustments in the 2023 forecast. LV sales are now expected to increase by 5% YoY to 4.63 million units (a fresh all-time high) this year. Next year, however, sales growth is projected to slow to only 1.5% YoY, as most backlogged orders will likely be fulfilled by then.