As countries set goals and targets for EV adoption, many potential consumers are faced with barriers, the most common being purchase cost, when it comes to taking on an EV. Alongside the issue of initial cost comes the problem of availability due to part shortages and other uncertainties that impact the attractiveness of EVs from a Total Cost of Ownership (TCO) perspective.
This is where subscription services come in, offering customers the opportunity to take on an EV without the high paywall or long-term financial commitment. They can also offer the flexibility of easily changing vehicles according to customer preferences.
All-inclusive EV subscription service Onto, has recently raised $60m USD in equity – enabling the business to further develop within the UK and expand into Europe, starting with Germany.
The subscription is all-inclusive of insurance, breakdown cover and public charging without an upfront deposit or long-term commitment.
We spoke to CEO and co-founder, Rob Jolly, to find out more about the company's next steps for Europe as well as the benefits the subscription offers to customers.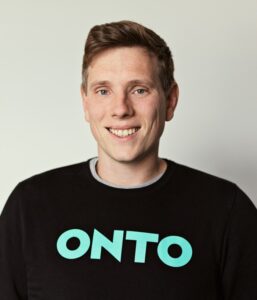 Just Auto: (JA): Could you tell me a little bit about your role at the company?
Rob Jolly (RJ): I'm the co-founder and CEO; we started the business five years ago. My day to day role has changed a lot in the last five years. Right at the start we were doing everything, we didn't have any outside funding.
We were washing cars, we were onboarding the customers, were on the phone 24/7. Then we were going out and trying to raise funding, along with running the business.
Now we've got over 150 staff and we've raised a lot of equity and debt financing. My day to day is now about managing people who are very experienced at doing each of the individual functions and having a more holistic approach to talking to investors and trying to set the strategy for the business.
How do people become involved with Onto?
It's super straightforward and it's a completely digital signup journey. You can either do it through the app or website. All you have to do is upload a copy of your driving licence, take a selfie of yourself with the driving licence to prove identity verification, link your bank and a few other details.
Within a few minutes you can have registered and you will have a car delivered to your doorway within a matter of days. Then it's completed, everything is included. It's one flat fee in a month, even including public charging and insurance and servicing, and with no commitment whatsoever beyond the one month in a rolling monthly contract.
It's then really up to the customer if they want to roll-over and keep using the service on a monthly basis.
What are some of the key benefits Onto provides for customers?
We're trying to make access to EVs accessible, we're trying to make it flexible, and ultimately hassle-free. The fact that is one monthly fee that covers everything is important; customers know with certainty how much money they're going to spend, and especially with the fuel crisis right now, it is becoming more important to know what costs you have coming out every month. For our customers a high degree of certainty is very important, but I think the flexibility of the offering is a strong point also.
We want to have that ability and flexibility to empower the customers. We have around 20 car models now from car manufacturers. It ranges from the Renault ZOE, to the Fiat 500e; both of those as good examples of city cars, which actually have really good range now and are pretty practical family cars too. We also have more premium cars such as the Audi e-tron, Tesla, the Jaguar E-PACE. We try and cover the breadth of the market so that customers have a real choice.
When looking at Europe and the UK what plans are there for development?
We want to continue growing in the UK. We are nationwide already today, so it's not geographical expansion in the UK, but more so looking at the volumes of EVs that we are wanting to increase and to grow more, the models we have, and also the quantity of cars – but then also doing the same in in Europe.
We know in Germany, where we're launching early next year, we know that there's very similar kinds of behaviours and buying behaviours from customers. EV adoption is at a similar point, so we know that there's a very similar mix to what there is in the UK, and we know that there will be demand for the service.
I think that even though in further markets beyond that, where we're not as developed in our plans of where we'll go and when we're confident that Europe is following the same trends and for us Europe is really kind of pioneering in the way that its approach and EVs.
What will this development mean for the EV subscription service in the UK?
I think with subscription, we are going to see more and more adoption over time. Car ownership has been changing for some time. People bought cars outright 30 years ago and now 90% of cars are bought on finance.
This is just another avenue for customers and another kind of option for them. I think especially with younger customers, millennial customers, we're seeing that there isn't a need for them to own cars that they don't want to be locked into it. We are seeing a changing consumer thought process around what having a car really means to them.
What trends have you seen when looking at customer subscriptions?
Something that we find quite interesting is that we constantly see in the press how EVs won't work for people who don't have off street parking. By offering an all-inclusive solution we see that we have a huge amount of people using public charging, which is included in the price.
More than 80% of our customers use public charging at least once a month, so it's a huge amount of consumer adoption of public charging. We found that not having a home charger and not having off street parking doesn't mean that an EV doesn't work for you. You can charge in a lot of locations now, it isn't just that you have to stop at a motorway service station. Your car will generally do 200 to 300 plus miles range now, and you can park it and charge it at a lamp-post in London, at supermarkets, at workplaces.
I think as the charging infrastructure gets greater, people are probably starting to realise it's not that much of an inconvenience, and actually it can fit into your life more than having to stop off at a petrol station.
What advice would you give to people who are maybe reluctant to switch to or try out an EV?
I think the biggest thing is to try driving a car and try and live with it – that's ultimately what a 30-day subscription does. It gives you the ability to try it and without it costing you deposits and everything else that comes with buying a car.
What we've seen is that customers who take our subscription even when they leave, they don't leave and go back to petrol and diesel, they're either leaving because their circumstances have changed, they don't need a car or they're going to buy a used EV or lease.
Over 90% of customers aren't going back to petrol or diesel once they've tried it. I think that's the biggest thing once people have lived with it, and experienced it. They realise that is actually a better solution for the vast majority of people.