In a reversal of recent trends, 2023 is likely to be one of the most challenging years for Chile's light vehicle (LV) market. It is poised to shrink by almost 10% year-on-year (YoY) after having previously seen double-digit growth and having overtaken Argentina in market size terms. Understanding how this occurred can also give insights into the future of the Chilean market.
A stable democratic government and an opening up of the economy to numerous free-trade agreements have helped vehicle sales thrive in several ways. Although having no domestic auto production, free-trade agreements along with some of the easiest regulations for manufacturers to have cars certified for sale in Chile, were important ways in which the Chilean government supported new vehicle sales. Starting in 2017, vehicle sales in Chile began to surge, growing 22% YoY. Up to this point, Chile had been the third-largest new vehicle market in South America, well behind Argentina.
In 2018, however, Chile overtook Argentina to become the second-largest market for new vehicles in the region. Although Argentina suffered from its own economic crisis and new car sales plummeted, Chile continued to see surging demand and looked set to permanently overtake Argentina and establish itself as the second-largest new vehicle market in the region. The COVID-19 pandemic brought challenges to Chile and caused the market to contract; however, the supply-chain crisis has proved to be less of a problem for the South American country.
By 2021, COVID-19 restrictions had eased in most regions around the world and therefore worldwide automotive production should have ramped back up, but the constraints that led to renewed production slowdowns are well documented. Vehicle sales grew less than 5% YoY globally in 2021, after coming almost to a halt during certain periods of 2020. In Chile, sales surged by more than 60% YoY in 2021 and continued to grow by over 8% YoY in 2022 to a record high of 423.2k units. With no local automotive production, this may seem counterintuitive, but dealerships were able to import vehicles from whichever location or manufacturer had them available. Another strategy used by the Chilean government to support COVID-19 relief was to allow people to make withdrawals from pension funds early. In the short term, this supported the overall economy, including vehicle purchases.
However, all good things must come to an end and by the close of 2022, cracks began to show. Sales slumped over 30% YoY in December 2022 alone. This trend has continued into 2023, and through May sales are down 17% YoY. We do not see the pattern reversing this year and more importantly, we see Chile once again sliding behind Argentina to become only the third-largest new vehicle market in the region. As quickly as forces aligned for the market to take off, these same forces then aligned for the market to decline just as quickly. First off, the early pension withdrawals, while good as a temporary support, were clearly unsustainable and when this programme was halted, it negatively impacted vehicle sales. As the world economy seems poised for a recession, the Chilean economy, being dependent on open trade is also vulnerable to this risk. The liberal democracy that the government has relied upon is threatened. Chilean citizens have demanded a new constitution, but up to now, the current administration has not been able to produce a constitution that most citizens will vote for. This has also caused businesses to hesitate in making significant investments until the final version of the constitution is available.
Nonetheless, Chile remains a healthy market. The open trade agreements should continue overall to be an asset. Many Chinese manufacturers are looking to expand their reach outside of the home market, particularly in the case of electric vehicles. The Chilean market, with a strong economy and low bar for entry, has started to be somewhat of a test market for these vehicles before their producers branch out into other markets in South America. While Chile may not be showing the boundless growth of 2021, it is positioned to remain one of the most important vehicle markets in South America.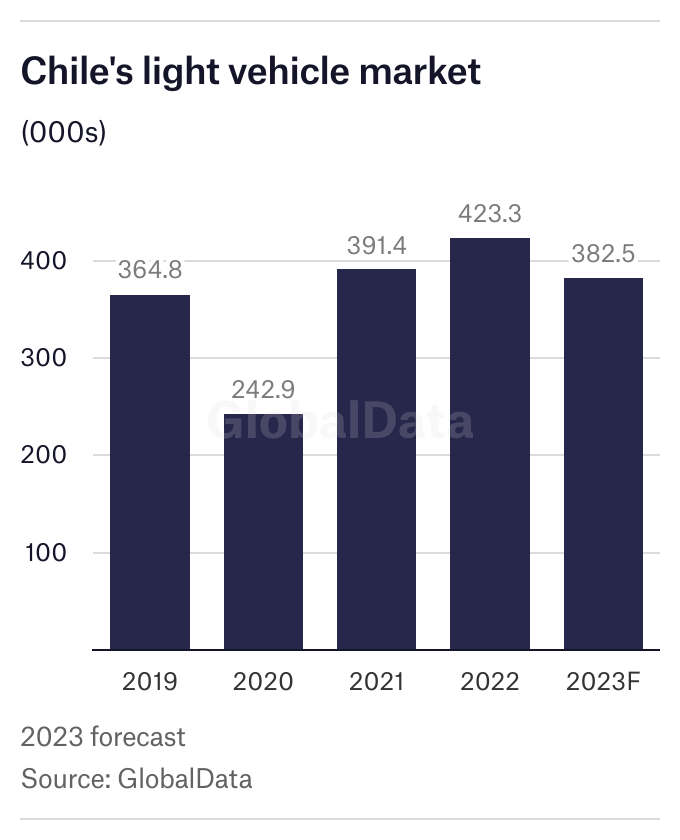 Kimberley Krafft, Analyst, GlobalData Americas Vehicle Forecasts
This article was first published on GlobalData's dedicated research platform, the Automotive Intelligence Center