For the first time since 1999, the UAW and Unifor's contract agreements with Stellantis, GM, and Ford are both set to expire at the same time this September. The UAW's four-year contract expires on 14 September while Unifor's 3-year agreement expires on 18 September. Bargaining with the Detroit 3 starts in August with job security, higher wages, and pensions being the main priorities for discussion.
Back in 2019, the UAW decided to strike against General Motors – the strike lasted 40 days, becoming the longest national walkout against the automaker since a 67-day strike in 1970. Nearly 50,000 workers became involved and shut down 33 manufacturing plants across the US, which GM reported cost them 300k units of production and US$4 billion. GM's Silao and Ramos Arizpe plants in Mexico as well as its Oshawa plant in Canada were also impacted due to a parts shortage from the strike. As a result of the halted production, GM's inventory fell from 795k units in August 2019 to 649k units in October 2019 and consequently, YoY sales dropped in September and October.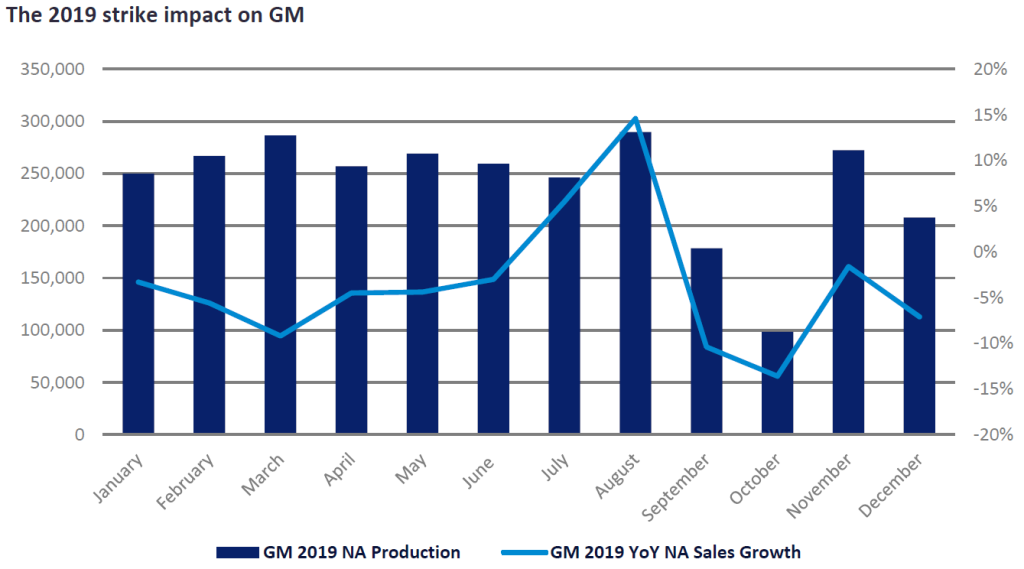 Historically, the UAW has used patterned bargaining in their negotiations where one of the Detroit 3 automakers is designated the lead and a contract is negotiated with them and the other automakers' contracts are "patterned" off of that. This year, negotiations are expected to be more contentious, and UAW President Shawn Fain has alluded that things may be done differently this time around which could mean that they negotiate with all three simultaneously – ultimately leading to a strike against all of the Detroit 3 if their demands are not met. Given this, there could be multiple scenarios at play, but looking at the most extreme example – a strike against all three automakers – we estimate that the impact on 2023 North American production could range from a minor 1% volume impact if the UAW strikes for only 15 days, to a more severe 11% if both the UAW and Unifor strike for 100 days. Looking at 2024, we could see slightly higher production in order to make up for lost volume, although it may be contingent on vehicle demand.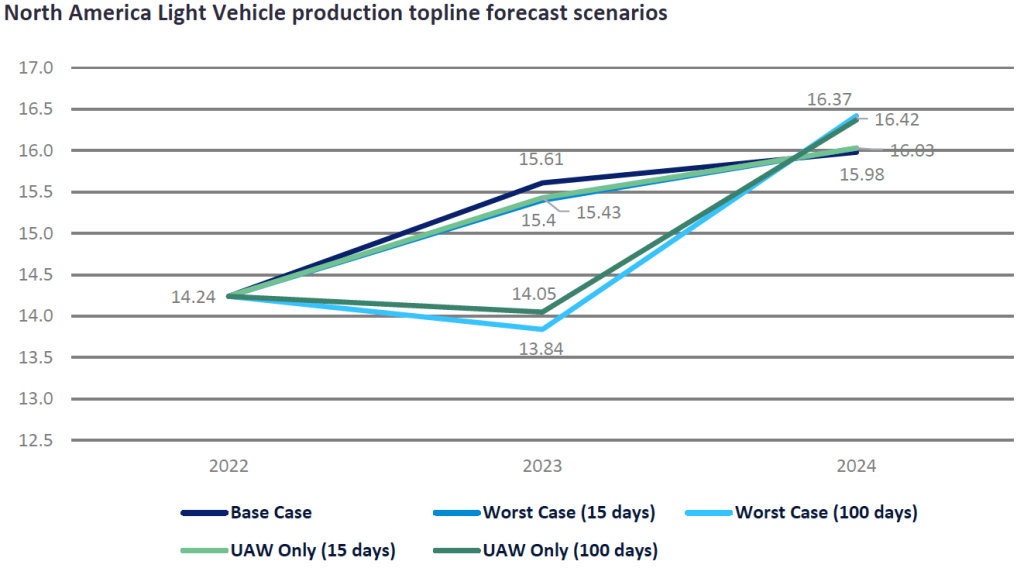 As in the strike of 2019, there is a risk of Mexico's output being affected due to a lack of engines and other parts that the plants there use from the US and Canada. Other OEMs may also be affected given that some of their suppliers are UAW, although it is likely that they are working on contingency plans in the event of a strike. Additionally, a strike could potentially delay notable new product launches and build-outs such as the refreshes of the popular and profitable GM Large SUVs and Ford and Stellantis' Large Pickups.

Unionised production in North America faces a downward trend as other non-union manufacturers such as Tesla and Toyota continue to grow in the market – it previously represented 40% of overall production in the region in 2019, but now only represents about 36% for 2023. GM, Ford, and Stellantis are continuing to look to reduce labour costs as they upgrade current or build new facilities to manufacture BEVs (battery electric vehicles) so that they can stay competitive with Tesla and other manufacturers. BEVs require fewer parts than traditional ICE vehicles, which means fewer union workers are needed to manufacture each vehicle. Earlier this year, Stellantis idled the Belvidere assembly plant in Illinois – in part due to the escalating costs in the shift to BEVs – which left 1,300 employees out of work. The plant was once home to the Jeep Cherokee and has the capacity to produce 300,000 vehicles annually. The threat of more plant closures is one item on the agenda for contract negotiations and since the automakers have had recent years of healthy profits, the UAW believes the closures are unnecessary.
We anticipate that US vehicle sales would also be impacted, as dealer inventories could be quickly depleted after just 30 days of a strike. Additionally, there is a likelihood that some buyers will delay their purchase or divert to other OEMs although this impact would be minimal. We foresee the 2023 US sales impact ranging from 1% based on a mild scenario to 9% based on a more severe scenario. A severe scenario is expected to take nearly two years for the lost volume to be recovered with about 60-70% being recovered in 2024.
Taylor Prodin, Analyst, Americas Vehicle Forecasts, GlobalData
This article was first published on GlobalData's dedicated research platform, the Automotive Intelligence Center